Air Conditioning and AC Cooling Repair
NEED HELP WITH YOUR AIR CONDITIONING SYSTEM? CALL 24/7 FOR EMERGENCY AC REPAIR
The demands on AC systems in the hot months of summer can overload your system when you need it most!
To help you communicate your symptoms with us, you can reference the diagram below.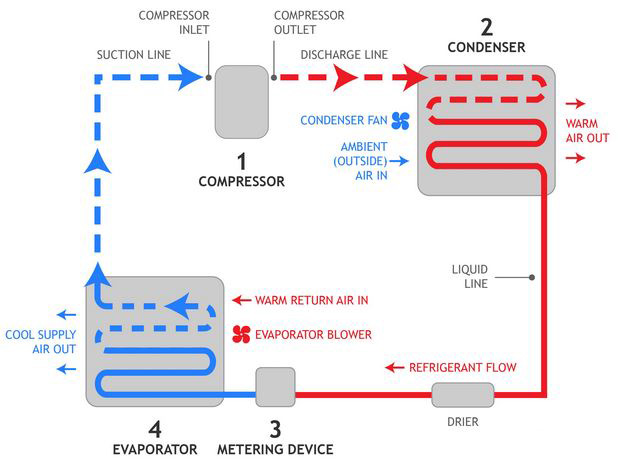 Our Licensed Air Conditioning Technicians will explain the repair and help you understand how each component in your ac system needs attention. Our home air conditioner repair technicians use the latest and most accurate digital tools to ensure your systems are running at peak efficiency which saves you money. We use in combination a refrigerant gauge and a temperature gauge to measure system subcooling and superheat. This means your ac equipment is running at its peak engineered level which saves energy.
We don't install and repair equipment to "good enough" standards, we delivery the very best ac repair in Northern Virginia.
Let us design your air conditioning system to provide you a level of comfort you may have never experienced. Our AC installation team has a huge amount of experience in getting the job done right! Whether its new residential or commercial construction, or existing AC equipment change-out, you will be very happy with the level of service you receive.
We offer very competitive pricing, and ensure our prices are the lowest in town. We use up-front pricing and don't markup the repair costs after you let us into your home. Our customers are our neighbors, and we want your business for life so we price our repairs consistently lower than the competition.
We are proud dealers of all major AIR CONDITIONER equipment. TEK7 promotes "ENERGY STAR" money saving AC equipment.
RESIDENTIAL AIR CONDITIONING REPAIR
Your home air conditioning system is often something that is taken for granted. We come home to a house that is cool and comfortable. It's only when the inside air becomes warm and humid that we realize something is not right – that's when you call us. We can come out and see what is going on with your system, and let you know exactly what needs to be done.
COMMERCIAL AC REPAIR
For a business owner, a properly functioning air conditioning system is just as important. Your customers expect to experience a comfortable environment when they walk through your door, whether you own a restaurant, retail store, or office building. Commercial AC work is different from residential; be careful about having your repairs done by a contractor who primarily works on home AC systems and just does some commercial work "on the side" – he may not have the skills or experience to do the job correctly. We do all types of commercial AC service and repairs, including government buildings, churches, or any other type of commercial facility.
AIR PURIFICATON
Everyone wants to breathe air that is pure and fresh. However, there are often all kinds of contaminants found in the air inside homes or commercial buildings. Mold and mildew are common, especially in a humid environment. Germs are everywhere, and of course any type of unpleasant odor is almost always immediately noticed. All of these are problems with the purity of the air, and they are all things that can be eliminated with the installation of an air purification system. Once you have this system in your home, you will never want to live in an environment without one!
See Heating and Furnace Repair
Northern Virginia Service Locations:
Alexandria, Annandale, Arlington, Ashburn, Burke, Centreville, Catharpin, Chantilly, Clifton, Falls Church, Fairfax, Fairfax City, Fairfax County, Fairfax Station, Gainesville, Manassas, Manassas City, Manassas Park, Oakton, Prince William County, Reston, Sterling, Vienna